WP_Post Object ( [ID] => 133352 [post_author] => 4 [post_date] => 2022-04-26 12:25:13 [post_date_gmt] => 2022-04-26 12:25:13 [post_content] => Getting active can be just as much a part of holidays in Greece as the beach time that we all know and love. And best of all, it gives us the opportunity to visit some of the most popular Greek islands outside the hottest and most popular months. So with spring in the air, or as an idea for a late-summer or autumn treat, we're sharing with you some of our favourite sports on Greek islands. They're designed to give you a little inspiration to try out something new and make you see Greece in a whole new light.
Rediscover Zakynthos as a diving paradise
White beaches, sea turtles and a party atmosphere … so far, so familiar when it comes to describing Zante (or Zakynthos). But here's where things change as we introduce you to scuba diving in the amazing underwater world of one of Greece's favourite islands in the Ionian Sea. Zante is home to a National Marine Park in Laganas bay, established for the protection of the protected Caretta caretta sea turtles which lay their eggs here and on other beaches in Greece. So you know what you'll be keeping an eye out for as you enjoy all the marine life in Zante's famously clear water at dive sites like Lakka. There's a whole world of fascinating underwater features to explore, including tunnels and caves. And you don't need to be a scuba diving expert to enjoy them.
Are you ready to try out kitesurfing in Paros?
With winds that blow strong and steady, Paros is an ideal destination for kite-surfers. In fact, the famous Cycladic isle (another Greek island with a reputation for enjoying a good time) has become one of the hottest kite-surfing spots in Europe (it's been hosting international tournaments for years), even though its love of waterborne adrenaline is still a well-kept secret beyond kite-surfing aficionados. The consistency and strength of the prevailing northerly winds are often ideal, whether you're an expert looking to hone your kite-surfing skills or trying out the sport out for the first time. There is no shortage of kite-surfing spots in Paros, from Golden Beach and New Golden Beach to Santa Maria and Pounda Bay.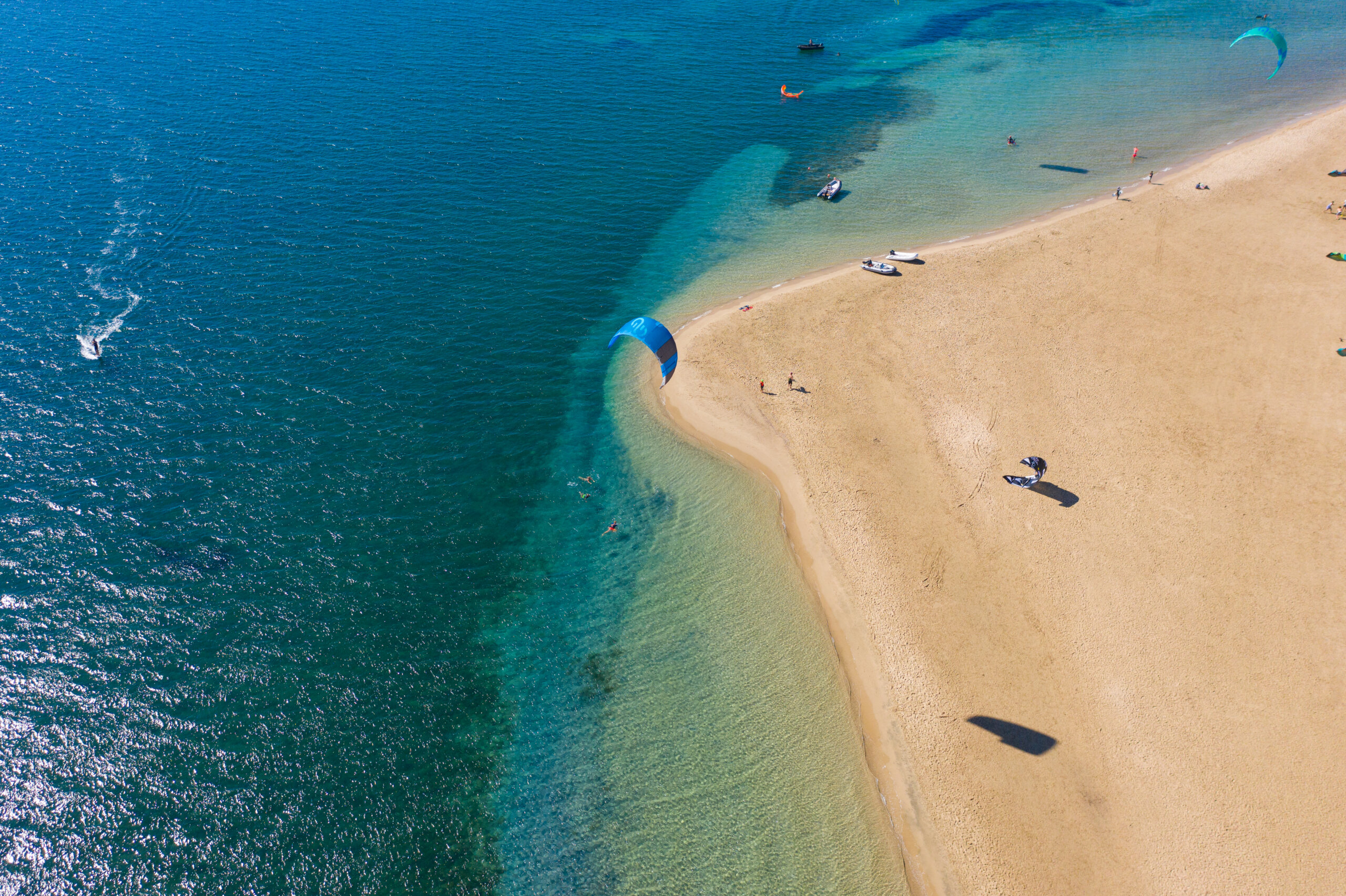 Go kayaking in the Sporades… a lifetime experience
Skiathos, Skopelos and Alonissos... the three lush Greek islands that make up the Sporades island chain. If that means anything to you, you'll already be picturing some of Greece's most wonderful beaches and a background of emerald-green pine trees and cerulean skies. Well, keep that setting in mind and now add yourself kayaking along the coastline of any of the islands, stopping to snorkel in sea caves and have a cooling dip. There are kayaking holidays that incorporate multiple Sporades islands or even kayaking between the small, uninhabited islands of Alonissos Marine Park, featuring more than 80 types of bird (from tiny warblers to cormorants, gulls and eagles) and 300 species of fish, along with the increasingly rare Mediterranean Monk Seal – so-called because of its love of isolation.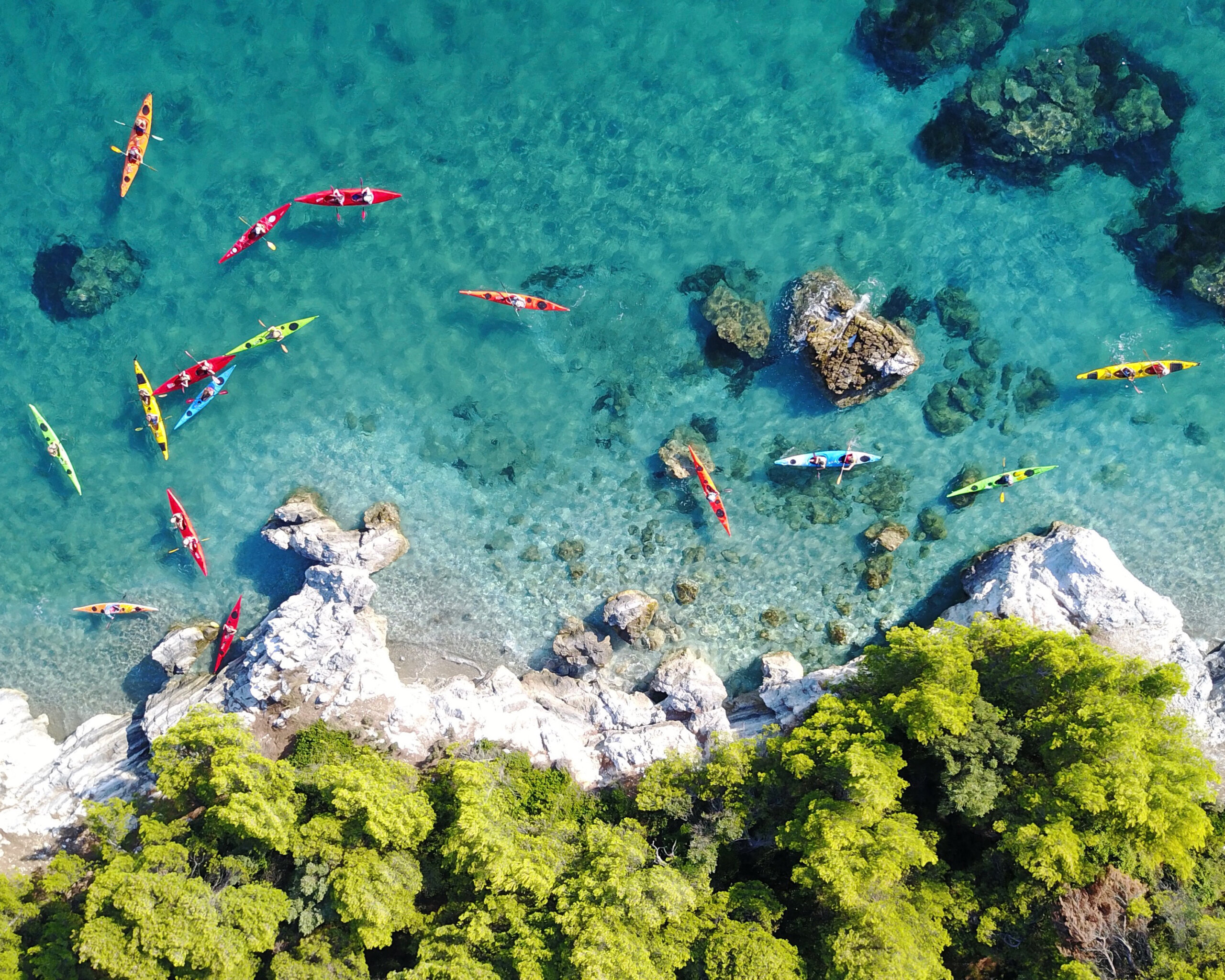 Choose a different hiking path every day on Tinos
Tinos is one of the closest Cyclades islands to Athens, which makes it easily accessible all year round and a perfect choice for hiking enthusiasts. The fact that you'll find an extensive network of hiking trails crisscrossing the island is the cherry on the cake. There are an incredible 300km of hiking paths in Tinos (originally shepherd's trails and paths between otherwise isolated settlements), of which around 150km have been marked out by local enthusiasts and experience providers. Some go in a loop and others follow the coast, taking you past dams, archaeological sites, monasteries, folk museums, a Venetian castle, dozens of dovecotes and even spherical boulders whose origin remains a mystery. You could spend a week on Tinos and choose a different hiking route each day.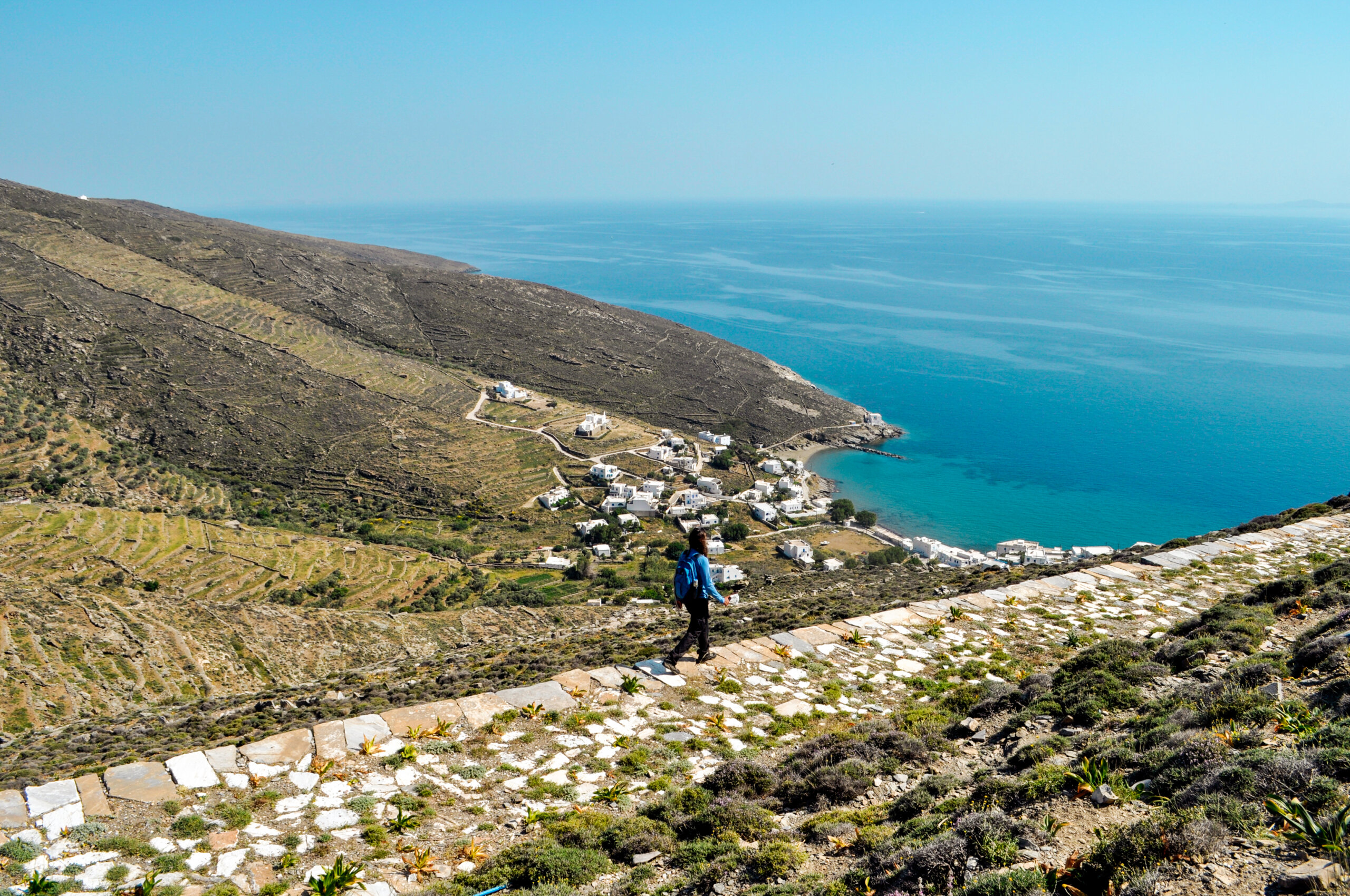 Tempted to find out more or even try any of our outdoor activities on Greek islands for yourself? Feel free to get in touch at media@marketinggreece.com. [post_title] => Sun, sea and outdoor activities on Greek islands [post_excerpt] => [post_status] => publish [comment_status] => closed [ping_status] => closed [post_password] => [post_name] => sun-sea-outdoor-activities-greek-islands [to_ping] => [pinged] => [post_modified] => 2022-04-26 13:43:27 [post_modified_gmt] => 2022-04-26 13:43:27 [post_content_filtered] => [post_parent] => 0 [guid] => https://www.marketinggreece.com/?post_type=news&p=133352 [menu_order] => 0 [post_type] => news [post_mime_type] => [comment_count] => 0 [filter] => raw )
Sun, sea and outdoor activities on Greek islands
26-04-2022
Sun, sea and outdoor activities on Greek islands