Keros Bay, located on the island of Lemnos in northern Greece, was a well kept secret from the mid 80's until 2008, when some passionate 'watermen' from Greece founded 'Surf Club Keros' and shared this slice of paradise with the rest of the windsurfing and kitesurfing world.
The 4km sandy shallow bay, blessed by the annual meltemi wind, makes it one of the best places worldwide for windsurfing and kitesurfing. The abundance of space, the safety of the bay, the exotic water colors, and warm summer temperatures, fulfil all the requirements of a 'dream windsurfing and kitesurfing location' for both beginners and advanced riders.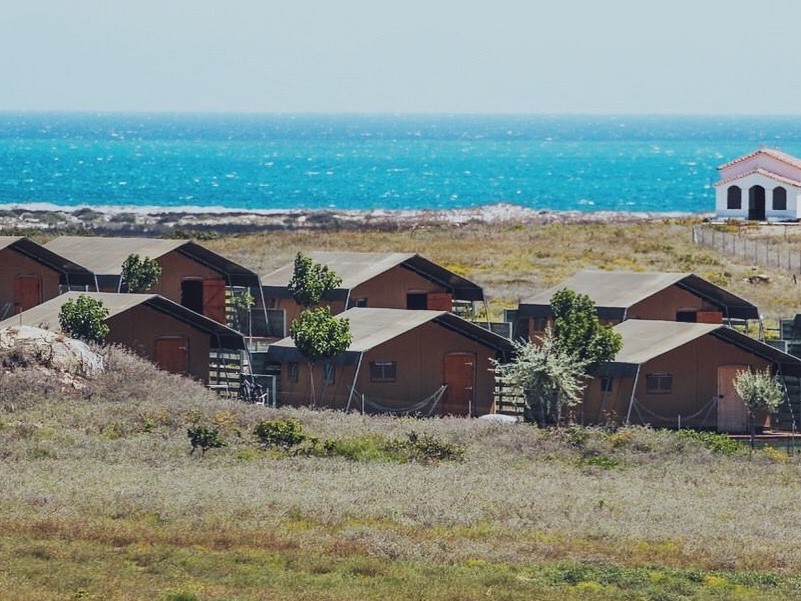 Being part of a unique landscape and the Natura 2000 network, meant that we had to carefully choose the accommodation option we offered to our clients. We decided to set up Luxury Safari tents, as they architecturally blended in with the landscape and applied minimum impact on the environment. With our Luxury Safari Tents setup, you can be one with nature, while enjoying all the amenities and luxury that you would find in a high end resort.
Protecting the environment and being as sustainable as possible is not our only mission.
We wanted to oppose and act against social and economical exclusion by organizing special events and camps. Through the following events we give equal access to people with disabilities, minorities, groups that face any sort of oppression and exclusion, and we include and promote local communities and businesses within our economic and organic operations.
Our Girls Only Camps aim to knock down any entry barriers that women face when they want to take part in any watersports. We encourage women to get together, get out there, have fun and build a dynamic and active girls community in the surfing world! By bonding and making new friendships we eradicate any demotivation that exists due to social oppression.
@surfclubkerosofficial

Our Live Like a Local Camps, exist as part of our social sustainability concerns. We aim to get people in touch with the local community, way of living, products and economy.Moreover, we get visitors in touch with authentic local Greek culture and the wonderful island of Lemnos, Greece, both from sea and land.
Keros For All is the only tailor made kitesurfing and watersports experience holiday for people with physical disabilities worldwide. The mission of Keros For All is to act against social exclusion and include wheelchair users and amputees in all aspects of our business as possible.
Surfing Birds: Our goal with these camps is to bring kids closer to nature, to introduce them to watersports such as surfing, windsurfing and kitesurfing, to expand their social horizons. To make them more independent, to inspire and influence them for the rest of their exciting life to come.
As part of our Social Sustainability actions, we decided to support local Micro Breweries of Aegean Sea Islands. In our menu, we offer a big selection of local beers at our bar and restaurant, offering our customers a unique menu with the special hidden gems of Aegean islands micro-brewing.
Our 'Experience' island trips aim to bring visitors closer to the island and establish stronger bonds. We plan trips to sand dunes, salt lakes, archaeological sites, and hidden gems that only a local can take you to. During these trips visitors interact with local people, tastes, and landscapes, enhancing their holiday experience.
See more for Surf Club Keros